MS-995 High Temp Stainless Steel Pipe Markers
MS-995 stainless steel pipe markers are for use on piping that has a surface temperature range up to 177°C.
Stainless Steel Pipe Markers consist of MS-995 label applied to a flat stainless steel carrier
Stand-off brackets hold the printed pipe marker away from the heat of the pipe's surface
Special heat reducing spacers prevent the heat from affecting the printed legend
Pipe markers come complete with two stainless steel brackets, spacers and two stainless steel straps for easy installation
Available in standard sizes: 70 mm x 457 mm or 114 mm x 914 mm
Custom Stainless Steel Pipe Markers
MSA MS-995 stainless steel pipe markers provide an alternative for identifying pipes when standard legends won't work. Our MS-995 pipe markers relate P&ID's to the actual piping configuration within the facility.
Reduce time spent tracing piping, especially in emergencies
Teach new personnel plant piping layouts quickly and effectively
Reduce the possibility for human errors
Identify processes and improve overall efficiency for maintenance and operations
Guaranteed for five years, MS-995 Markers eliminate the need for costly re-labeling
Marking Services Australia offers the flexibility to create identification marking that conveys critical elements of each plant's unique asset information, thereby promoting safer work conditions and minimizing downtime due to errors or accidents. Our identification marking materials are far superior to conventional labeling such as adhesive tapes, paint/stencil or stamped tags. Our methodology communicates critical information directly from your facility P&ID's at the point at which it is most needed.
MSA standardizes identification labeling, providing a full complement of identification products and turnkey services designed to fulfill all needs for identification in nearly any environment. We help our customers manage their facilities better; achieving long-term cost savings associated with faster, more efficient plant commission and start-ups, improved operator training, and enhanced plant safety for employees. Through our commitment to providing value-added services, high-quality products and on-time delivery, MSA offers you a one-stop, comprehensive source for all your identification needs.  Contact us today to get started.
Contact Us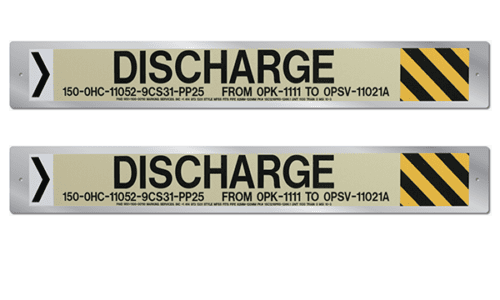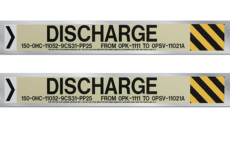 MS-995 Pipe Markers
MS-995 pipe markers are easily customized to your specifications of size, color, and appearance
DOWNLOAD SELL SHEET