MS-990AS Coiled Conduit Markers
Marking Services Australia (MSA) MS-990AS coiled conduit and cable markers, your fastest and easiest method for identifying a plant's electrical systems. MS-990AS conduit markers are designed for identify conduit in indoor environments, featuring a protective top layer that provides protection against dust, dirt, oil and other indoor contaminants. The encapsulated printed graphics protect printing and provide excellent resistance to chemicals and liquors.
Markers are installed by wrapping completely around the conduit and sealing the adhesive strip to the surface of the marker itself. Since the adhesive never touches the conduit, no preparation of the conduit surface is required for application, reducing installation time. These conduit markers wrap completely around the conduit [up to 201 mm diameter].
Complies with AS 1345-1995 for colour field, letter text height and supplemental colour banding
No surface preparation needed
Coiled construction quickly snaps around conduit
Markers can be removed and then reinstalled
Ideal for rough, dirty or sweating pipes where adhesive markers cannot be used
Substantial labor savings vs. traditional colour banding tape or self-adhesive applications
Standard colours are black text on orange background
Additional colours and custom sizes available upon request
MS-990AS conduit markers can be customized to meet your specific needs. Our custom conduit markers are fast, easy and economical with most orders shipping in 24 to 48 hours. MSA custom conduit markers provide and alternative for identifying pipes when standard legends won't work.
Contact Us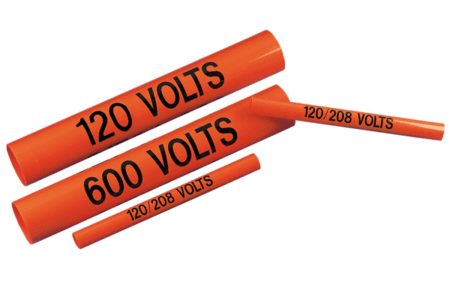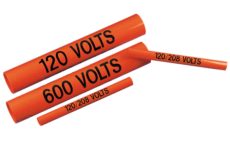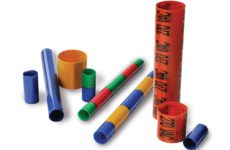 MS-990AS Coiled Conduit Markers
The Fastest Identification of a Plant's Electrical Systems
DOWNLOAD SELL SHEET